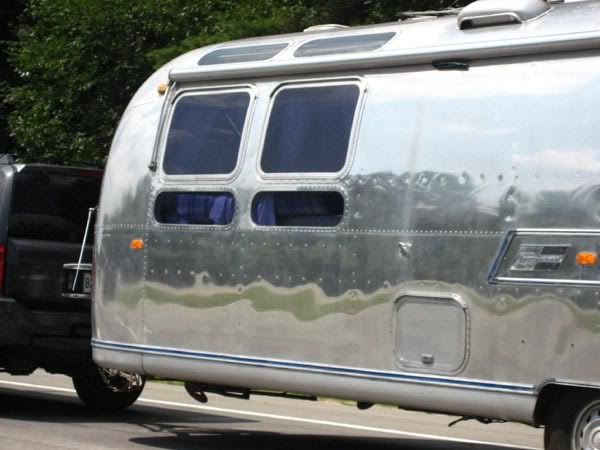 long rides lead to day dreams in my world. (I do not have a dreamer catcher hanging from my rear view). lately I have a reoccurring dream about the husband and I owning a fantastic airstream trailer. oh I am in love with this dream lately. I remember I had a paper one that built from an issue of flaunt magazine. it sat on the shelf of my college apartment until I moved. I wish I still had that. I'd find it a spot on my desk at work, as a way to keep the daydreams focused.

at this point though my dream is less about where we go in this beautiful metal contraption and more about what it looks like inside. its certainly more about the dazzling retro curtains, napkin holder, and a set of cast iron cookware. its about the interior color scheme of green and yellow with red accents and vintage table cloths. its about the plastic mixing bowls, checkered linoleum floor tiles, and a red awning off the side. in my dream I sit fireside every evening in the summer and curl up in a dry cushy bed each night. I rise with the birds to make a pot of camp coffee and whip up a batch of flap jacks to share with the husband, and I never get fat. we see the country- each state- even Montana, and swim in rivers, and take pictures of locals and shop at general stores. we visit food festivals in the summer months and take in the history of the southwest after the holiday season.

ok ok I guess its about the look, the destinations, the life that owning such a piece of machinery could offer. maybe one summer we'll rent one and set sail for a while.